In August 2011, Saranac Brewing and The Boilermaker held a contest for the 2012 graphic design class at Mohawk Valley Community College to design the logo for the 2012 Boilermaker Road Race, which would be celebrating their 35th Anniversary.

The guidelines that they provided were that it had to include the established "Boilermaker" wordmark, it had to include a "running man" shape, and the final color design had to be done with PMS 185 Red and PMS 288 Blue in vector format.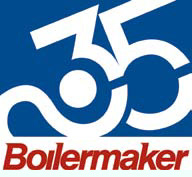 Determined to find an intersection of the running man and the anniversary number, I decided to start with abstract versions of the shapes. The first design above was the specific abstract version that evolved into what was officially chosen as the 2012 Boilermaker logo.